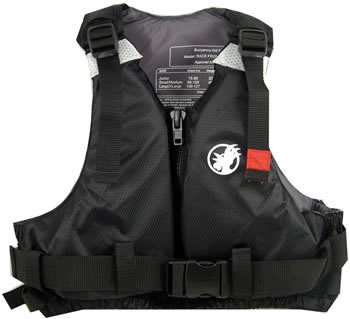 Rooster Black Diamond Buoyancy Aid - Zip Front Junior Size
Rooster Black Diamond Buoyancy Aid - Zip Front Junior Size
Descrizione
Rooster Black Diamond Buoyancy Aid - Zip Front Junior Size
Questo salvagente permette totale libertà di movimento. Entrambe le cinghie sulle spalle e la cintura in vita sono regolabili per adattarsi perfettamente a bambini di diverse età e costituzioni.
E' realizzato con tessuto "ripstop" super resistente per una lunga durata ed è dotato di strisce riflettenti per una maggiore sicurezza.
Viene fornito di cerniera frontale e cinghiette sotto gamba per un totale aderenza al corpo.

Questo salvagente è adatto a bambini da 30 a 40 kg di peso e tra 76 e 86 centimetri al torace.
Consigliamo di lavare a mano con acqua calda e sapone. Lasciare asciugare all'aria.
The Black Diamond Buoyancy aid from Rooster Sailing. This compact product has been designed for maximum comfort allowing good body movement. Both the shoulder and waist straps are highly adjustable to ensure that there is plenty of room for growth, providing a good fit for different body shapes.
- Rooster 50N Black Diamond Buoyancy Aid Approved to EN393
- Designed with a durable YKK front zip for easy entry and a high cut to allow unrestricted movement from the waist
- Adjustable waist and shoulder straps provide room for growth and the adaptability to ensure a close, safe fit for a wide variety of body shapes
- Shoulder buckles recessed into neoprene pockets to remove the risk of snagging on ropes and rigging
- Optional, adjustable leg straps
- Strong rip stop fabric for greater longevity and wear resistance
- Reflective shoulder strips for improved visibility
Don´t forget to check out our overhead styles.
Available only in a Junior size for chest sizes 76-86cm and weight 30-40Kg. For a full size range see the overhead style.
We recommend hand washing in warm soapy water and allowing to air dry.